Novel Structures for the Active Targeting
Cholesterol Anchors for the Sterol-based Post-Insertion Technique

It is an advantageous desideratum for active targeting to have a coupling technique at hand that can, ideally, be universally applied to different types of ligands. To this end, we established thesterol-based post-insertion technique(SPIT); it is based on sterol-PEG anchors that were earlier developed at this Department and initially synthesized by Dr. Thomas Steenpass. By allowing to optimize the coupling and the preparation of liposomes within separate processes, this method provides aready-to-use system. In their PhD theses, Judith Jacoby and Daniel Molnar deal with the optimization of these anchors and with the study of their anchoring stabilities within liposomal membranes.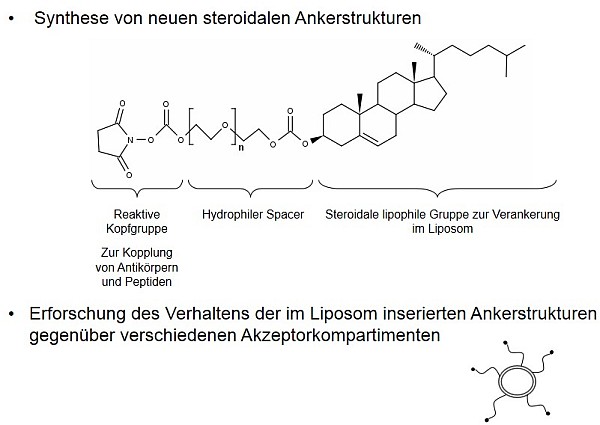 Related publications
Adrian JE, Wolf A, Steinbach A, Rössler J, Süss R: Targeted delivery to neuroblastoma of novel siRNA-anti-GD2-liposomes prepared by dual asymmetric centrifugation and sterol-based post-insertion method, Pharm. Res. 28(9), 2261-72, 2011. [
Epub
]
Gantert M*, Lewrick F*, Adrian J, Rössler J, Steenpaß T, Schubert R, Peschka-Süss R (* eq. contributed): Receptor-specific targeting with liposomes in vitro based on sterol-PEG1300 anchors, Pharm. Res. 26, 529-538, 2009. [
Epub
]
Hens F, Gantert M, Schubert R, Peschka-Süss R: Specific targeting of neuroblastoma cell lines - a "ready-to-use" system to modify liposomal surfaces, Targ. Oncol. 2 (S1), S35-S36, 2007. [
Epub
]
Steenpaß T, Lung A, Schubert R: Tresylated PEG-sterols for coupling of proteins to preformed plain or PEGylated liposomes, Biochim. Biophys. Acta - Biomembranes 1758, 20-28, 2006. [
Epub
]
Novel Polymers for Drug Delivery
At the Max Planck Institute (MPI) for Colloids and Interfaces in Potsdam-Golm, Germany, the team of Dr. Laura Hartmann synthesizes various polymers featuring chiraland hydrophobic side chains. These are investigated with respect to their suitability as homing devices for specific pathways of endocytosis.
Related publications
Hartmann L, Häfele S, Peschka-Süss R, Antonietti M, Börner HG: Tailor-made poly(amidoamine)s for controlled complexation and condensation of DNA, Chem. Eur. J. 14, 2025-2033, 2008. [
Epub
]