Asymmetrical Membranes
Conventional liposomes differ from natural membranes by their symmetrical arrangement of lipids within the two membrane monolayers. The lipid dysbalance between the monolayers of cellular membranes is a particular feature that can mediate or support cellular signalling (such as, for example, in apoptosis or hemostasis) and plays an important role in various diseases. The influences of membrane asymmetry on lipid transport processes within membranes or the interactions between cells and membranes can be investigated by employing so-called asymmetric liposomes. They can be produced by lipid transfer via lipid transfer proteins between disparate liposomal populations or, alternatively, by enzymatically modifying the lipids of the externally oriented monolayer (PhD theses by Dr. Susanne Wieland Berghausen, Dr. Joachim Momm, Dr. Martin Holzer and Marcus Wüller).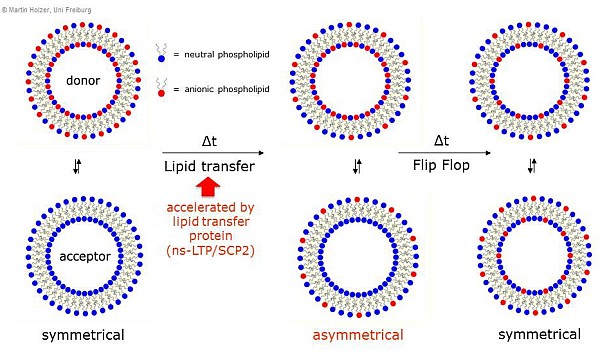 In order to follow the protein-mediated lipid transfer of charged phospholipids between donor and acceptor liposomes, we employ the method of free-flow electrophoresis. It allows for the separation of donor and acceptor and, simultaneously, for the quantification of asymmetry.
In the context of generating asymmetric liposomes via protein-mediated lipid transfer, procedures have been developed for enabling the production of donor and acceptor liposomes with ideal characteristics. The combination of detergent dialysis and size-exclusion chromatography allows to produceunilamellar, spherical liposomes of a defined size and with a very narrow size distribution. In fact, certain areas of model membrane research that focus on investigating the influence of the membrane curvature benefit from the employment of such liposomes.
Related publications
Holzer M, Momm J, Schubert R: Lipid transfer mediated by a recombinant pro-sterol carrier protein 2 for the accurate preparation of asymmetrical membrane vesicles requires a narrow vesicle size distribution: A free-flow electrophoresis study, Langmuir 26 (6), 4142-4151, 2010. [
Epub
]
Wieland S, Schubert R, Peschka-Süss R: Asymmetric membrane distribution of phosphatidylserine in different liposomal preparations, J. Liposome Res. 9, 477-489, 1999. [
Epub
]