Manufacturing Processes
The preparation of liposomes of suitable sizes and compositions and in different amounts requires a variety of methodological approaches. This Department has especially developed procedures for the industrial-scale production of liposomes.
Mechanical Procedures
For the large-scale production of liposomes we developed different mechanical methods such as high pressure homogenization (dissertation and professorial qualification by Prof. Dr. Martin Brandl who, since 2009, holds a full professorship at Syddansk University, Odense, Denmark) and high-pressure extrusion. The applicability of these methods was scrutinized in several PhD theses (Dr. Thomas Schneider, Dr. Nicole Berger, Dr. Christine Tardi, and Dr. Jutta Bender).
Tangential Flow Filtration
By means of detergent removal via tangential flow filtration (Prof. Dr. RegineSüss, Master Thesis by Julia Beuttler) we managed to establish a method for the sterile preparation of liposomes on a large scale that moreover enables to precisely control the liposomes' size.
Duale Asymmetrische Zentrifugation
Duale Asymmetrische Zentrifugation (dual asymmetric centrifugation = DAC) ist eine weitere Methode zur Herstellung von Liposomen, die an unserem Lehrstuhl angewandt wird. Dazu wird eine Lipidmischung zusammen mit dem gewünschten Puffer zentrifugiert. Zusätzlich zur horizontalen Achse rotiert die Probe dabei um ihre vertikale Achse. Während bei einer üblichen Zentrifugation das Probenmaterial nach außen gedrückt wird, kommt es hier durch die zusätzliche Rotation zu Kräften, die das Probenmaterial in die Mitte der Zentrifuge zurückdrängen. Die beiden entgegenströmenden Scherkräfte führen zu einer effizienten Durchmischung der Komponenten unter gleichzeitiger Entstehung von Vesikeln. Diese Methode kann zur aseptischen Liposomenherstellung genutzt werden und findet ihre Anwendung in unterschiedlichen Projekten (Einschluss antiviraler Strukturen (interner Link), Einschluss therapeutischer siRNA (interner Link), Einschluss von Arsentrioxid (interner Link)).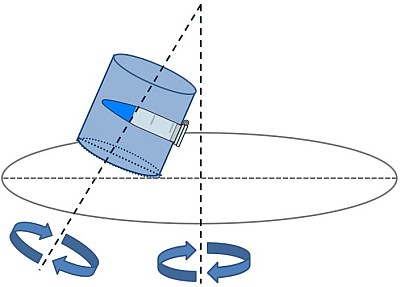 Ethanol injection
With this type of liposome preparation, lipids or mixtures thereof are dissolved in ethanol, and introduced by means of Hamilton syringes into stirred aqueous buffers, which leads to the spontaneous formation of vesicles. Methods for preparing giant unilamellar vesicles (GUVs) that are based on the ethanol injection method are currently investigated in a PhD thesis (Manuel Weis).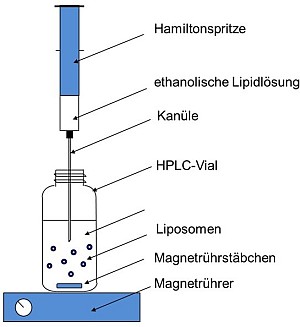 Related Publications
Holzer M, Barnert S, Momm J, Schubert R: Preparative size exclusion chromatography combined with detergent removal as a versatile tool to prepare unilamellar and spherical liposomes of highly uniform size distribution, J.Chromatogr. A 1216, 5838-5848, 2009. [
Epublication
]
Schubert R: Liposome preparation by detergent removal,
Methods Enzymol. 367, 46-70, 2003.
[Epublication
]
Peschka R, Purmann T, Schubert R: Cross-flow filtration - an improved detergent removal technique for the preparation of liposomes, Int. J. Pharm.162, 177-183, 1998. [
Epublication
]
Brandl M, Bachmann D, Drechsler M, Bauer KH: Liposome preparation by a new high pressure homogenizer Gaulin Micron Lab 40, Drug Dev. Ind. Pharm. 16, 2167-2191, 1990. [
Epublication
]